Staying Healthy During The Current Crisis
For most of us, our lives have been completely upended over the course of the past week.  All the drastic measures that seem to mount every day have one goal:  To keep us and our community as healthy as possible. We know that washing our hands, staying at home, maintaining social distance and monitoring for symptoms are all vital.  But staying healthy right now goes beyond that.  We need to find a way to maintain some degree of physical activity, eat well and get enough sleep.  Doing these things will keep us strong both physically and mentally.
As of today, Ontarians are still permitted to leave their homes to get some fresh air.  Going for a walk is one of the easiest things anyone can do to get your heart rate up, burn come calories and get energized.  And with spring-time weather upon us, it's even easier to get outside.  30-45 minutes of walking once, twice or even three times a day while maintaining social distance should become a part of your regular routine.  For those who cannot leave due to self-isolation, there are many resources available to guide you through a no-equipment, at-home exercise routine.  Many gyms are running online fitness classes.  Our own yoga studio, FitWithin, is running remote classes via Facebook. You can check out Marlene's website or follow her on Instagram for more info.  And there are countless at home routines available online.  They range from simple low impact routines to high intensity workouts.  Here is a link to a simple 15 minute routine geared to seniors from the US National Institute of Health:
There are plenty of others to choose from.  Look for something that looks like fun and suits your current health status.  Please keep in mind that you should only do these routines if you feel well.  If you have any respiratory symptoms at all, rest and let your immune system have the energy and resources it needs to get you well.  And if a whole routine isn't your thing, just commit to one or two exercises daily.  For example, hitting the floor for 10-20 push ups 3-5 times a day can go a long way in keeping you strong.
And of course, as any of our patients have heard repeatedly, don't forget to stretch!  Whether it's after a simple walk or high intensity workout, your muscles always want a cool down.  Here's some routines that are very similar to the ones we usually use at the office.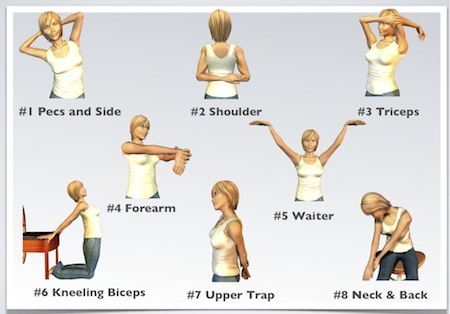 As far as diet goes, the most important consideration is to avoid sugar.  Sugar is an easy energy source for infectious agents that has no real nutritional value.  Emphasize quality protein and lots of veggies.  While the grocery stores may be running out of toilet paper, there is still plenty of healthy produce!  Make sure to drink plenty of water too!
Hopefully these tips can help keep you fit and healthy while we all keep our distance!